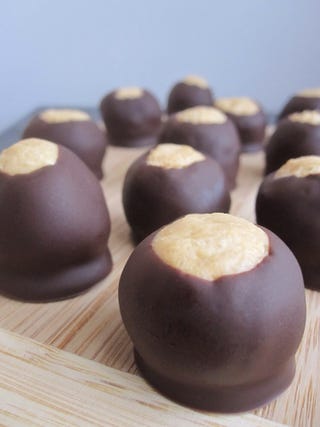 These are delicious, easy to make, and fun to share. AND THEY HAVE DELICIOUS, DELICIOUS PEANUT BUTTER IN THEM.
Ingredients
1 (2-pound) bag confectioners' sugar
3 cups creamy peanut butter
3/4 cup butter, softened
1 (7-ounce) tub dipping chocolate, melted according to package directions
Preparation
1. Line a large tray or baking sheet with wax paper. In a large bowl, combine the confectioners' sugar, peanut butter, and butter, stirring until well blended. Shape into one-inch balls.
2. With a toothpick, dip each ball into the dipping chocolate until almost covered, leaving some of the peanut butter mixture exposed on top. Place the balls on the tray and refrigerate until firm, about two hours.