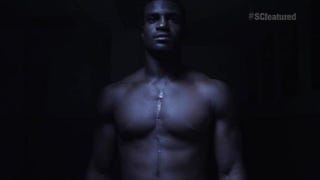 REGGIE!!! REGGIE!!! REGGIE!!!
The only downside I can find to the Raiders 2013 draft is that unless we beat the Callahan-employing Cowboys on Thanksgiving, it will likely be the highlight of our season.
All four of the first teams to draft were reportedly looking to trade down with various degrees of urgency, with the Raiders choice at #3 being where the action would likely happen. The story making the rounds is that the Raiders were on the clock, twiddling their thumbs until two minutes were left, when the Dolphins called offering to swap the #12 and their lower second round pick. Reggie held out for the higher of their second rounders and they agreed.
With the #12 pick the Raiders selected CB DJ Hayden. If you don't know the story behind that big ass scar running down the middle of his chest, it's worth looking into. He is also by all accounts a serious baller. Have yet to hear any of the analysts knock the man or the pick on anything other than the medical risk, which I'm fairly confident Reggie McKenzie is more abreast of than them.
Rumors began springing up on draft day that Reggie was going to take him at #3, which he had no reservations about confirming afterwards. If he had really had the brass balls for that... hoo boy. That would have been hard to co-sign on. The compensation he received for the #3 pick was actually below it's supposed value, but given the absence of their own second round pick from the Carson Palmer trade and utter lack of talent on the roster he had to pull the trigger. And getting RT Menelik Watson with the pick obtained from Miami only further illustrated why it had to be done, as he'll fill an immediate need and likely start as long as can remain upright.
I don't watch college football so I'm only going to pretend to know so much about these dudes. Watson gave up one sack all last year, and has only been playing football for a couple years since he swapped it for basketball. That's about as exciting as a right tackle prospect gets, I guess. Third round pick LB Sio Moore out of UConn... is a LB out of UConn, so hey you tell me. My sources have said he's a beast though. Fourth round pick QB Tyler Wilson out of Arkansas is verrry interesting... projected as a likely first round pick if he had come out the previous year, he instead chose to presumably get on my dad's eternal good side by staying in school. He was of course rewarded by the Petrino shenanigans. Of that large handful of notable QBs who fell down to the fourth round, he struck me as the most desirable. Not many doubts about his head, heart or arm, and the only real "knock" on him was basically his old coach getting caught having a student intern mistress. Also, Arkansas.
The first three picks are sure starters, but don't think that it necessarily says as much about them as it does the Raiders. Wilson will get every opportunity as well. Word is that our current regime are not the biggest Terrelle Pryor fans. There won't be a whole lot stopping one of the two, if not both tight ends we drafted in the later rounds from making an immediate impact as well. Nick Kasa out of Colorado, I've heard of him- that's a great sign!
Before any of these guys take the field, the big takeaway is that Reggie McKenzie really does appear to be the right man in the right place at the right time. Fuck everybody else's charts and grades and mocks, Reggie's job is to know this shit better than all of them, and then to have the conviction to act on it. Somebody more worried about keeping his job than doing his job would not have drafted DJ Hayden at #3. And thank goodness, neither did Reggie.