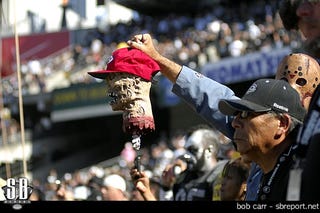 This is a big football game. I am fucking PUMPED.
I think all Raiders fans would agree that we have two main rivals, the Donkeys and the Chiefs. Sorry San Diego, but it's hard to take you too seriously when your stadium is half-full of Raiders fans when we play you.
I think all Raiders fans would also agree that we hate Denver more, and not for reasons you may assume. Their recent run of success against us has gotten a lot of hype, but 20 years ago we went on one of the longest winning streaks for one individual team against another in NFL history.
No, we hate Denver more because of Shanahan, who we managed to beat in his last game with Denver to get him fired. God, that felt great. And that punk sweater-around-the-neck bitch owner of theirs. Did you know that he has lost some of his mental faculties and is essentially a drooling shell of a man these days? You probably didn't, because of course it wouldn't be very classy for the media to report on something like that. BUT HOLY SHIT LOOK AT THE CRYPT KEEPER AL DAVIS AND ALL THE SCABS ON HIS FOREHEAD EWWWW AND HE NEEDS TO DIE!!! Yeah, fuck you off all that, everybody.
Denver has never been the cleanest organization either, but it's never stopped Pat Bowlen from occasionally stepping out of the tanning booth to assert otherwise. From their old dirtball O-line who used to dive at knees like they were krugerrands in a fountain, to their current run of arrests and suspensions, they have actually always been kinda scummy. Try convincing their fans of that though. I have never, ever encountered a Donkeys fan who was a worthwhile human being. I have had two solid friends in my lifetime who were big Chiefs fans though. They're alright. And as a group they are nowhere near as insufferable or plain stupid as Donkey fans. So yeah, FUCK THE DONKEYS.
In contrast to the success we had against Denver in my younger days, KC used to always kick our ass. ALWAYS. It really sucked. So there's always been a grudging respect there, and we generally settled everything on the field. Not as much yapping as with the Donkeys, and the Chiefs organization and fans are imminently more respectable. Raiders/Chiefs really is a football rivalry at it's finest. And even though it's only Week 6, this feels like a very big game. The Chiefs are undefeated. One may think they have bigger fish to fry than the 2-3 Raiders. But they somehow managed to lose to us twice last year. I'm not sure what's worse, your LB shooting himself in front of the head coach in the team parking lot, or losing twice to the 2012 Oakland Raiders (OK, I know which one is worse).
And the Raiders... it finally looks like things are turning around, picking up steam, gaining momentum, insert you favorite cliche here. And as much as the team's success hinges on Pryor right now, the way the defense appears to be coming together after last week is an even more promising development. As a highly credible and dedicated member of the NFL media, it's my responsibility to stay abreast (he he, abreast) of the latest coaching trends. Because you know, these guys are all such geniuses. It seemed to start around the time we hired Gruden, when every story on an NFL coach had to include how many hours they spend neglecting their families to watch tape. It almost seemed to become a contest. I SLEEP AT THE OFFICE ON A COT SIX NIGHTS A WEEK! OH YEAH BUDDY? WELL I SLEEP AT THE OFFICE EIGHT NIGHTS A WEEK ON A BED OF NAILS! All so they can steal the wildcat formation from college and then have it become obsolete in a year. The read option already seems to be figured out (as a young lad I once asked pops why nobody in the NFL ran the tricky wishbone run-based offenses. His concise answer was that NFL linebackers are too fast and too good. End of story. Get pops a headset.) And it was only five years ago that all these smart guys were declaring cornerback to be the least important position, that good ones weren't worth it. People actually got paid six or seven figures to espouse that nonsense. Somebody needed to throw some of Lester Hayes' jheri curl in fools' eyes to wake 'em up.
So MY SOURCES are telling me that the current trend for NFL defenses is sort of a hybrid bend-don't-break with pressure system. The idea being that with it being all about the passing attack in the NFL right now, you keep everything in front of you, do not give up the big play, make em work for it and try to create turnovers and pressure the QB from everywhere. Dennis Allen is a big proponent of this. Unfortunately for him, he had no players last year when he was installing the scheme. What's the only thing worse than an NFL secondary relying on fucking Joselio Hansen? That same secondary after Hansen is out for the season. Yes, Raider fans were bemoaning the absence of Joselio Hansen last year. You got any spare dignity?
This year Allen was able to clear out all the dead weight and stock the D with "his guys." Of course there was a bit of a catch there- we had no money to spend. So Allen basically gets to take a mulligan off last year while filing away the experience for his real NFL head coaching trial with scrappy scrubs this season- which he is currently fucking acing. The defense as a whole is playing better than the talent it appears to be comprised of. The same can be said about the offensive line as well. Dennis is doing it. But today will be a great test. Alex Smith isn't trying to beat you with one throw. He's trying to take what the defense is giving him. Their big play threat is taking handoffs in the backfield (reminiscent of the Nap Kaufman days, except they're good). So theoretically, we're playing right into their hands. It will be very interesting to see how that plays out...
I don't know how else to say it. BIG FUCKING GAME. PUMPED. GO RAIDERS.