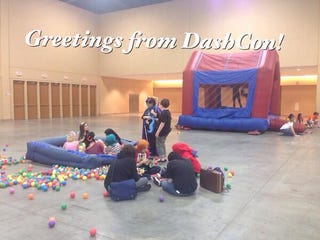 Disclaimer: you've probably attended hackathons worse than this event This event has been an 'epic fail' on the scale of classic livejournal dramz. The confluence of so many streams of interwebz sub cults & fandoms have unwittingly led to some white kids realizing the sheer emptiness of existence. The full fallout will be apparent in a few days.
The Promise
This was the layout of the hall for the weekend on the organizer's website.
Notice the utopian names.
The Reality
Here's a bullet list short take of the problems but you can scope out the full list of disappointments (& con?) here & here.
Here's video of the last minute request for 17k$$$.
There's even a tongue-in-cheek Slideshow at the organizer's website titled ' How to convince your parents to let you drive to another state to meet strangers from the internet'.
Of course it already has its own knowyourmeme page even though the event is not even over.
So who wants an extra hour in the ballpit?