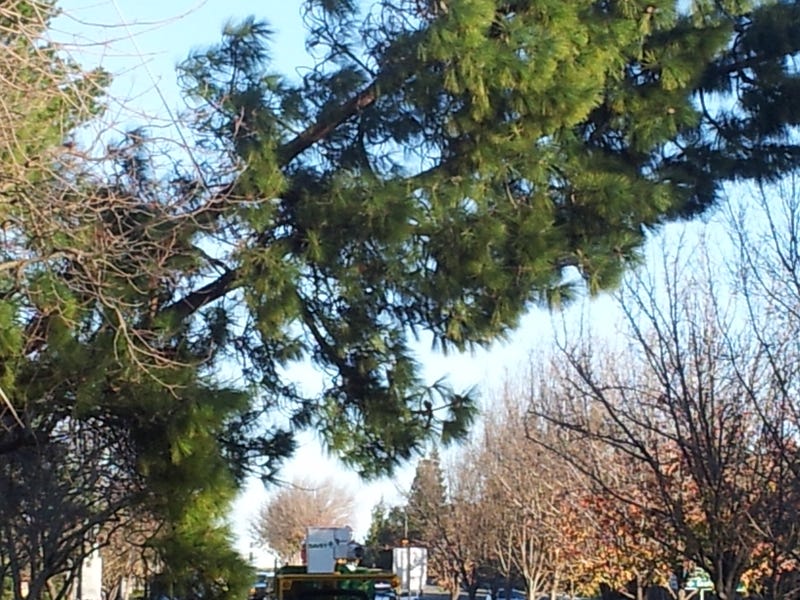 Yesterday, I had one of the most enjoyable mornings I'd had in a while. My neighbor called from the airport and asked if I could pick him up at Bart. After I picked him up, he invited me in for coffee. Sure, why not. He gave me 3 lbs. of assorted chile powders he'd picked up in Albuquerque. Awesome! We had a few espresso's, sipped some Fernet Branca, and had a very pleasant conversation.
I get home and I'm standing out on the back porch. The wind was fierce. I was watching the stand of pines in my backyard violently swaying when I hear an earth shattering, CRACK! At the same time I watch the tree topple and crash down onto the power lines setting off a massive explosion and sending aloft, a huge fireball. HOLY FUCK!! Every five seconds, the power would cycle, a jolt would hit the tree, and set off another explosion and fireball. PFFZZT! BOOM! FIREBALL! Smoke and flames! This happened approximately ten times.
There was six of those pines in-line that abut the far end of my property and my biggest fear has always been that they would go up in flames. It's amazing that didn't happened. It would have cause widespread devastation.
All the emergency crews arrived and immediately blocked the entrance/exit into the neighborhood. There's only one way in and one way out. Well, unless you hike out the back, and that's what they were telling people to do. Through the wildlife refuge, across the creek over the levee and past the lake. The place soon resembled a concentration camp with residents stacked up at the exit pleading to get out and trying to escape by sneaking past. Nobody got in, nobody got out for five hours.
Of course it was probably the coldest night of the year and guess what? No heat. Nothing to burn in the fireplace. It was a balmy 45 degrees inside the house this morning. PG&E worked tirelessly to restore power and after 27 hours, boom back in business at about 2:00 pm today.