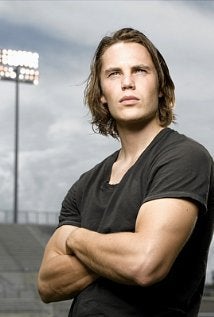 I just started watching FNL on Netflix on the recommendation of friends who are not football fans nor are they from Texas. I am finding it very addicting.
But there is one thing I cannot figure out. I'm on maybe the 5th episode, and there has been not one classroom scene, or even any hallway scenes, of kids actually attending school.
It appears that all they do is play football games, practice football, cheerlead, attend football games, visit Jason Street in the rehab center, go to the teen hangout, and drink beer.
I am confused. I find it amazing that they have so. much. time. to bring the drama when they are presumably spending hours practicing football while attending school, I would think, full-time.
This is the only criticism I have of this show. Oh, and, not enough naked Taylor Kitsch.