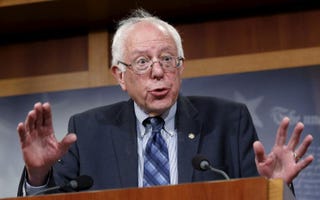 Man, bad couple days for Bernie. First, Planned Parenthood endorses his opponent, for the first time in their history. Then the President near-explicitly calls him out on gun control. And Bernie responds by calling Bill Clinton "disgraceful."
Responding to a question (from a man, natch) that Hillary lacks "moral authority" for staying with her husband, Bernie Sanders says:
"Look, Hillary Clinton is not Bill Clinton. But what Bill Clinton did is totally, totally, totally disgraceful and unacceptable. But I am running against Hillary Clinton, not Bill Clinton."
We all know about Clinton's deeds, or misdeeds. But we have no idea if Bill and Hillary had, or still have an open relationship. Hillary and Bill are still married. For all we know, they have a happy and healthy relationship. Maybe
It's amazing, too, that he tries to walk it back. He criticizes Bill, but then says "this campaign is about the issues." You can't have it both ways.
Obama, Edwards, Chris Dodd, Dennis Kucinich, Tim Vilsack never denigrated Bill Clinton while running against Hillary in '08. So why is Sanders resorting to these tactics now?
People forget, too, that there was a "Hillary or Bust" segment of the Democratic Party that she successfully convinced to back Obama. After this, I imagine that she won't work quite as hard for a Sanders presidential campaign as she did for Obama.
Actually, can we be real for a moment? This will probably do him in. Bill Clinton is incredibly popular, especially among Democrats.