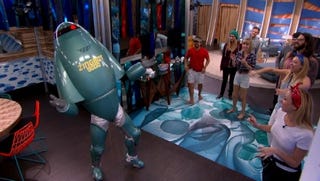 Tonight we have an eviction, a resurrection, and a whole lot of Chenbot action! It should be a busy night: Johnny Mac or Steve is out. Unless they're not. Unless they are, and Jackie, Becky, or Puma Barbie comes back.

But before we get to all that, let's re-visit the crazy week that brought us here:
---
• So last night we saw the new and improved and same-as-always ZingBot paying a visit the the BB House. And, well...

He just went ahead and did the damn thing. Ouch!
Of course, Austin is the actual cheater. And the one who initiated the relationship. And Liz doesn't owe a damn thing to some lady she's never met. So I bet the internet is gonna be super reasonable and kind to her about this.
• Speaking of Austin, how bout that nomination speech on Sunday?
That sure was something! In case you missed it, I took the time to painstakingly transcribe it for y'all:
I'm conflicted. As a human being, I've always been conflicted. I think that life is meaningless and important at the same time. It's meaningless because I personally believe that U.S. Americans are unable to do so because some people out there in our nation don't have maps and, uh, I believe that our education, like such as in South Africa and, uh, the Iraq, everywhere like such as and I believe that they should, our education over here in the U.S. should help the U.S., er should help South Africa, and should help the Iraq and the Asian countries so that we ill be able to build up our future for our children.
Heavy stuff, Bro.
• Oh, and I'm pretty sure Vanessa literally murdered Steve with her eyes. Assuming he survived, do you think they'll make him compete in soiled pants? I hope they let him change.
---
So, let us also do the damn thing:

-Who do you hope gets evicted? (Steve)
-Who do you hope comes back? (Jackie, with a vengeance)
-Why would you choose the same person for both? (Stop being difficult.)
-When will Meg realize that she's become a decoy and James is obviously in love with JuJu?
-Is Julie going to look perfect or flawless tonight? (Sploosh)
-Victims aren't we all? (um...)
The thread is open now! Post your comments, predictions, and lamentations below.
---
UPDATE - Competition Results: