Hey all, I am out of my nonfiction phase for now and back into novels. Who else could swing me but the great and underrated Richard Ford.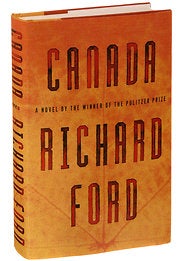 Canada is written from the perspective of a man looking back at his adolescence. The protagonist starts by telling the reader that his parents robbed a bank, and then he chronicles the crime itself, the dissolution of his family, and his own coming of age. The voice harkens back to Holden Caufield with a positive streak. That is, the narrator often punctuates the story with revelations about the world, but I found myself wrapped up in his journey and getting goosebumps during these slightly preachy parts. (The narrator is so likable that he earns them.) Ford remains economical throughout and manages to move the story forward almost all of the time without getting bogged down in analysis of it.
The settings - Montana, North Dakota, Canada - can come across as terribly bleak and lonely, but Ford manages to describe them as such but set a grand adventure against the background nonetheless. The book has its flaws; the protagonist's twin sister could be better realized, although the other characters make up for her shortcomings.
I've read several books by Ford and this is by far my favorite, though I still think he's a more talented short story writer than he is a novelist. He's at his best when writing about growing up, and this is the ultimate story of growing up - a teenager cast out into a big and empty world after his parents abandon him. He'll manage to inspire you even if you sometimes roll your eyes at his meandering thoughts.