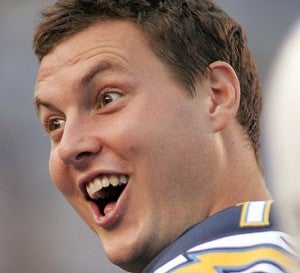 How can you not enjoy beating that face (in a football sense, of course)?
In what was the latest game ever played in NFL history due to the Coliseum needing to be reconfigured after the A's hosted Detroit in the ALDS on Saturday, the Raiders dispatched noted Rick Santorum supporter Philip Rivers and his San Diego Chargers with style. Charles Woodson earned AFC Defensive Player Of The Week honors for his performance, but LB Kevin Burnett probably played an even better game. Terrelle Pryor though... holy shit.
The first TD was more of a shock to a long-suffering Raider fan's system than a display of skill. But the third-and-long pass to Brice Butler late was one of the more incredible plays I've seen in awhile. Hitting the brakes to avoid one rusher, then going 0-60 in a couple steps to avoid getting drilled straight in the back, AND THEN firing a strike for a huge first down. There are not many QBs in the league who could have made that play.
The game had become uncomfortable up to that point. I figured our offense with Pryor would be at it's best when playing from ahead, when the defense has to pressure and commit quicker. That did not turn out to be the case, but I guess you can only call so many designed roll-outs. Not having a RB that anybody had to concern themselves with couldn't have helped either. But yet again, the entire team played clean and disciplined, and it's conspicuous. It's beginning to look like Dennis Allen can get more out of a roster than they appear to be bringing to the table.
How much more, we just may learn tomorrow.