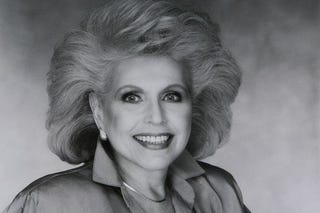 Hi all! Today's ClashTalk Poll is simple: whom do you want to thank?
I just found out that a wonderful woman I loved passed away (my mom texted me yesterday about it). Her name was Jean Nidetch; even though she was the glamorous founder of Weight Watchers and had built up an amazing legacy of wealth, prestige, and her own solid place in history, I only knew her as the woman who'd tipped my mother really well at the casino my mom worked at and gave her brochures to pass on to me about education, women's health, and a ton of other subjects.
When I finally got a chance to meet Jean, I was so nervous. But even more importantly I was thankful for all of the pep talks and advice she'd given my mom about the affordability of college tuition and why it was important for me and my sisters to go to college and how successful we'd be at college; the first time I met her, I ended up hugging Ms. Nidetch for about three minutes. She was a wonderfully sweet woman, and even though I've been faithfully sending her Christmas cards forever, I realize now I should have been better about telling her how much she meant to me. I wish I'd had a chance to tell her, "Thank you. You helped shape my life, and I'm a better person for ever knowing you."
So, ClashTalkers: is there anyone you want to say "Thank you" to? What would you say if you were facing the person now?
As always, put your answers in the comments below. And, obviously, thank you all for being here!