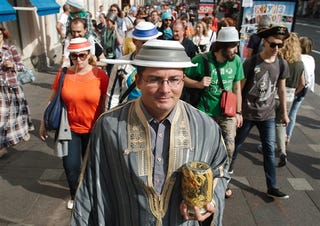 The march of the Church of the Flying Spaghetti Monster had all signs of being a satirical stunt – some of its 100 participants were armed with colanders on their heads and pasta in their mouths.
But the reaction of Russian authorities to so-called Pastafarians has been anything but lighthearted.
Police and members of a Russian Orthodox group set upon the group last Saturday, knocking some to the ground. Eight members of the church were detained and subsequently charged with organizing an unsanctioned rally. Although those detained have since been released, they are due back in court before the end of August.
Alexei Romanov, a member of the Pastafarian Church, called the move and subsequent legal proceedings against it "absurd."
"The country is gradually turning into an authoritarian state," he said.
Romanov's fellow Pastafarians are falling victim to a recently introduced law that bans insulting the religious feelings of believers.
This time members of an unregistered Orthodox Christian group who call themselves "God's Will," called the police when they found out about the procession, according to Romanov.
They accused the spaghetti worshipers of insulting the religious feelings of believers – an accusation that, if found to be true by a court of law, can mean up to three years in jail.
http://worldnews.nbcnews.com/_news/2013/08/…
Jesus Pogoing Christ, I try to insult the religious feelings of zealots daily. I guess this bullshit is yet another reason I won't be competing in the Winter Olympics.