For a small community, we have a disproportionate interest in the macabre. Do you ever think that one among us might be a killer? I like to think so. And my money is on ICN. He's too polished, if you know what I mean. Someone who is that fastidious about grammar and decorum is probably a senseless killing machine in his off-time. I think his crime scenes would leave hard-boiled detectives shattered, yet without any clues (because he's fastidious, remember?). The only [ETA: remnants] he leaves are crumbled pieces of paper with elaborate explanations. The police call him The Footnoter*.
Anyway, I've been getting into that Danish show The Killing. It's really good. The first season is one crime explored over twenty episodes. That sounds drawn out, but the episodes pass quickly. The main storylines focus on the police, the victim's family, and various local government players who have tenuous but recurring links to the victim. The characters are excellent. They do really great and then unlikeable things frequently, like actual people. But, you know, more interesting. Impressively, the female lead, Sarah Lund, does most of her detective work wearing a Cosby sweater. The male lead (whose name I have apparently forgotten) looks a bit like a David Shrigley work, but he's entertaining once you get past the likeness.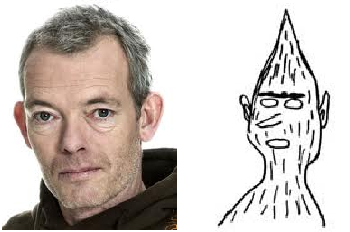 I won't talk about it much because I don't want to preempt your delight at purchasing/downloading this immediately and being as engrossed as I am.
So, what have you been reading, watching, or doing? And who among us do you think is the likely murderer (I mean, statistically, someone probably is)?
*- And he might kill us all for having pieced this much together. Lock your doors and ensure that your sentences have pronoun agreement.