And read about this awesome soup I just made. I don't have a good name for it, but it's like a Spicy Carrot and Peanut soup. The site I stole it from (with minor changes) called it a "Creamy Thai Carrot Soup", but I think calling it "Thai" is a bit of a stretch. It is delicious, though. I forgot to take a picture, but here's an artsy one from that other site: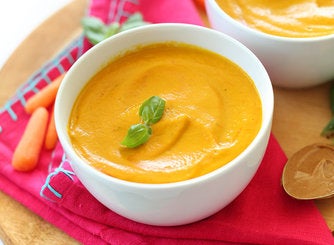 Basically, I had a bunch of carrots getting old in my fridge that I needed to use up. And a bunch of frozen veggie scraps in my freezer that I wanted to make into vegetable stock. So I did both! I was, like, totally domestically on top of shit last night. (I even did the dishes afterwards, rather than leaving them in the sink for "later". AND I did laundry while stock was simmering.)
Here's what you need:
1/2 yellow onion, chopped
4 cloves garlic, minced (3 get used at the start, and 1 for later)
4 cups chopped carrots
salt and pepper
2 cups veggie stock* (more on that below)
2 cups water
1/4 cup peanut butter
2-3 tsp Sriracha
1 tsp honey
Saute the onion and most of the garlic (leave behind a little, like a clove's worth or less) in some oil in a decently sized pot. Add the carrots and cook for about five minutes. Throw in a bit of salt and pepper, the veggie stock and water. Simmer for about 20 minutes, covered, until the carrots are soft.
Meanwhile, throw the peanut butter, Sriracha, the rest of the garlic, and honey into a food processor or blender. (Unless you have an immersion blender. Then you can probably do all this right in the pot. Should I get an immersion blender?) Pour your soup in there. I had to do this in a couple phases because my food processor isn't big enough. Blend it up. Cover the top with a dishtowel because otherwise it WILL splash you with hot soup.
Eat your delicious creamy soup with some toast maybe. The site I took this from suggested naan, you know, to keep with the not-actually-Thai theme.
---
*The veggie stock I also made. Do you guys do this? It's super easy and makes me feel all resourceful and shit. I basically throw odds and ends of veggies (not rotten stuff, but the stuff that I would otherwise toss) into a freezer bag, and let them accumulate until I have enough to make stock. I've been told to avoid using broccoli and brussels sprouts, so my scraps are all carrot ends, celery ends, onion peels and cores, and garlic ends. I debated using potato peels, but the internet has mixed opinions about that. If you're a meat-eater, I guess you can also do this with like chicken carcasses and whatnot.
I sauteed a bit of fresh onion (the other half from the soup recipe), then threw in two sandwich-sized ziplocks full of frozen scraps, a few sprigs each of dried thyme and sage, some salt and pepper, and enough water to cover it (about six cups). I let it simmer on the stove for about an hour, then put it through a strainer. I froze what I didn't use in the carrot soup. It came out really well, much better than most store-bought veggie stock. (Incidentally, most store-bought veggie stock is really pretty gross.)