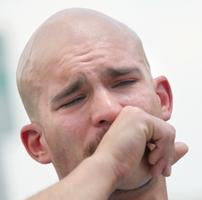 http://www.bakersfieldcalifornian.com/local/x5680910…
"David Sal Silva, 33 and the father of four young children, died early Wednesday morning after deputies say he fought with them and CHP officers who'd responded to a report of a possibly intoxicated man outside Kern Medical Center."
"Some witnesses apparently took cellphone video of the incident but deputies moved quickly to seize the phones. The Sheriff's Office, after releasing a statement Wednesday and naming its officers Thursday, declined all further comment."
"
"When I got outside I saw two officers beating a man with batons and they were hitting his head so every time they would swing, I could hear the blows to his head," Ceballos said.
Silva was on the ground screaming for help, but officers continued to beat him, Ceballos said.
After several minutes, Ceballos said, Silva stopped screaming and was no longer responsive.
"His body was just lying on the street and before the ambulance arrived one of the officers performed CPR on him and another one used a flashlight on his eyes but I'm sure he was already dead," Ceballos said."
"The office did identify the officers involved in the arrest as Sgt. Douglas Sword and deputies Ryan Greer, Tanner Miller, Jeffrey Kelly, Luis Almanza, Brian Brock and David Stephens."