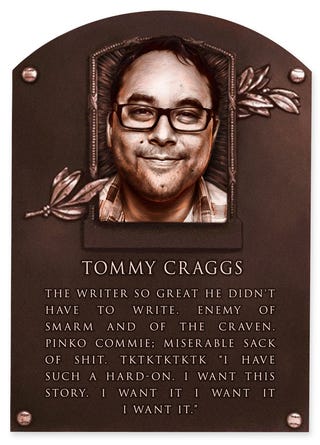 (Updated March 8, 2017): Well, this has got to be a kick in the teeth for a lot of people. After Slate laid off approximately a dozen people just three weeks ago, they posted this slew of job openings today, including Cragg's former position of politics editor. It's the very first opening listed. Damn.
(Original, published Feb. 13, 2017): The Huffington Post is reporting that Tommy Craggs — politics editor at Slate and formerly executive editor at Gawker — was one of approximately a dozen employees laid off at the 20-year-old web publication today.
We Clashers will remember that Craggs, along with fellow Gawker alum, Max Read, resigned after Nick Denton chose to remove a controversial post against the advice of pretty much the entire Gawker Media Group editorial staff.
I poke around on Slate every now and again, mostly to read Prudie or something from Atlas Obscura. Honestly, I'd never even realized that Craggs had been scooped up by them after his resignation. Dunno what that says about his work at Slate or about Slate itself (which has a godawful website that's painfully repetitive and ugly to look at). Anyway, thought you guys might want to know.