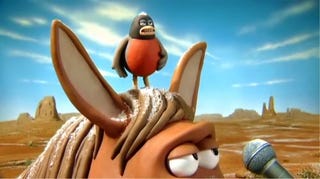 If you have Netflix streaming and you haven't watched Creature Comforts or Creature Comforts: America, I feel so much pity for you I can barely stand to exist on the same planet as you.
Here's how Creature Comforts works: a bunch of regular people are asked questions on a wide variety of topics. The answers are then paired up with extremely clever stop-motion animations of animals, to added comic effect. A lot of times, the dialogue alone is hilarious, but the images/animals they pair it with are frequently pure genius. I have watched both the English and American versions innumerable times, and I don't plan on ever stopping.
You should start with the American series, just because it's the one I happen to be re-watching right now. I promise you, you will have so much fun. BP, I especially feel like this would be right up your alley.
DON'T DISAPPOINT ME, GUYS. WATCH THE SHIT OUT OF CREATURE COMFORTS, OR ELSE.