So, I'm going to be a unicorn for Halloween. Specifically, a murdery unicorn. A murdercorn. I want to go all out with this costume, including the makeup, but I could really use some help/advice in that area specifically.
I'd really like to have my face and neck white like the woman in this picture: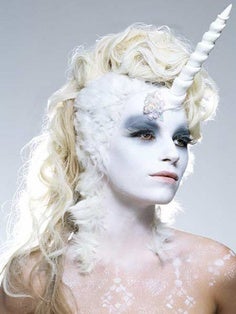 I've watched a ton of Youtube videos about how to make your face white without being (or looking like you're) covered with cheesy face paint.
But it seems like the people in all of those tutorials own a ton of makeup products, a lot of it high end (I think it's kind of a given that people who do lots of Youtube makeup tutorials own a lot of high end makeup). I've already spent about $150 on the costume, and I really don't want to have to invest in a whole bunch of makeup too.
Does anyone out there have any tips on how to get a look like this, ideally with more low-end makeup brands? I will heart you forever if you can help me out.