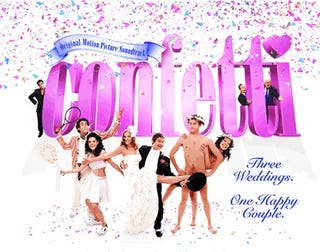 Everyone here has got one. The movie you always seem to recommend, the cd you keep burning for people. What's your underrated gem? Post them below (bonus points if you put a pic there, too!)
Here's mine:
Underrated Gem: The film Confetti
What It Is: A 2006 British mockumentary about 3 couples trying to win "Wedding of the Year," with the reward being a new house for the winning couple.
Why It's Great/Underrated: Amazing cast (Martin Freeman, Jessica Hynes), very funny plot, intelligent writing, one of the guys from Peep Show playing a nudist. It's a Christopher Guest movie, if Guest actually liked his characters.
Where It's Available: Sad to say it's not streaming on Netflix anymore, but I'm sure they'll bring it back soon. I think it's on Starz On Demand right now (or Showtime?), so worth checking there.