Did you guys hear that American Gods is being made into a tv show? I am generally hopelessly out of the loop, and only just heard, but now I'm very excited about it. I really enjoyed the book, and I think it would translate really well into tv. Sounds like it's behind schedule from original plans, but Starz greenlit it and it's being planned for late this year.
Here's the very old link where I heard, which I actually got to from Zuzax's post about composites. The guy did a composite of Wednesday, and Gaiman responded with input on how to tweak it.
In other Neil Gaiman news, I've been rereading The Sandman, which I haven't picked up since college, and it's still great.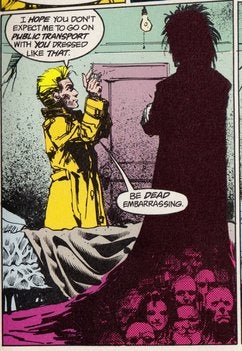 AND I read that it might ALSO be made into a film (with Joseph Gordon-Levitt directing... not sure how I feel about that), though it seems more in the air than the American Gods series.