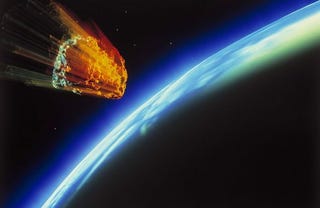 Although this is my second astrology post this week, I am not in a fact a believer. Well not so much, I have noticed certain Zodiac characteristics amongst my friends, but that's about it. All right, truth time, I carried around Linda Goodman's Love Signs as a teenager, but I haven't even glanced at it in decades, I promise. But this bit of news... is disturbing.
I was playing on Twitter (because that's what I like to do when stuck on a plot point) and this tweet came into my newsfeed:
i have to say, this does concern me a wee bit. http://nymag.com/thecut/2014/03…
(You should follow her, she's lovely and funny. She wrote for The Atlantic Wire, and now has a book coming out that I'm going to buy, and you should too. No, I don't know her personally, and she doesn't follow me.)
I clicked on the most alarming link and found this quote regarding upcoming eclipses?? (What does that even mean?)
"When a fly is trapped in a hot pot, it continually searches for an exit, flying frantically from side to side, and bouncing off the walls of the pot, but it can find no escape. Well, these eclipses are similar."
Hell on Earth I say. So I clicked over the article.
http://www.theguardian.com/theobserver/20…
Some selected quotes for those that don't want to read the article, because it's mostly about her life.
"April's so scary that I'm giving classes on it,"
"Look at 29 April!" I look. "Some people feel the stock market is…" She pauses for such a long beat that I offer to complete her sentence: "…going to crash?" She shakes her head. "This is even worse – we've not had this since the American Revolution."
Then there's this:
http://www.refinery29.com/2014/03/64501/…
"The mission of an eclipse is to bring truth to the surface, for once you have truth, you can protect yourself. Anything outworn and of no future relevance will be ended, so that new opportunities and conditions can take the place of things that go. The universe insists on new ideas and growth and will never tolerate the status quo for very long — a lesson we learn forcibly at eclipse time."
I so much don't want any lesson forcibly taught to me. Please read the refinery link so you best know how to protect yourself. This is urgent.