With all apologies to Catherine O'Hara - and Sheila Albertson for that matter - this has been killing me and I finally put it together. From the awesome Christopher Guest film Waiting For Guffman, Michelle Duggar absolutely reminds me of O'Hara's character, the sweet, but endearingly dim Sheila Albertson.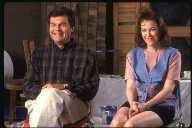 Again, apologies to the character Sheila, who does not deserve this comparison at all, but this has been on the tip of my brain and it's been killing me.

If you haven't seen the movie, it's another mockumentary co-written with Eugene Levy, alongside Best In Show and A Mighty Wind, and I absolutely love the hell out of it. Enjoy a brief clip! Hope this resonates with any other Guffman fans and/or Duggar not-fans.