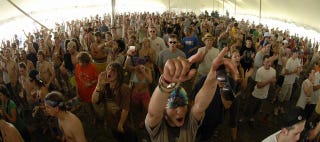 Of all the accolades Austin has as a generally bitching place to live, "The Live Music Capital of the World" is probably the most undeserved one of all. Unless, of course, you love walking by frat bars and hearing bad Stevie Ray Vaughn tribute bands on a Wednesday night.
Seriously, why do still I hear about so many fucking people wanting to move to Austin? Just the other day a coworker told me that his friend's son wants to move to Austin to "make it" in a band. I told my coworker in no uncertain terms that unless this kid wants to eat beans out of a can and live with five other dudes who never shower because the hot water got cut off again, he should do what the rest of us do - get a real job, play music on the side. Most of the good venues closed over the last few years as the downtown venues slowly start to succumb to the inevitable push by hotelier assholes who see a unique cultural landscape and think to themselves, "This would look better if it was all condos!" as their irises rotate to face the back of their skulls and are replaced by dollar signs. And there are no record labels in Austin. That's right! Not a single fucking label of consequence has an office here. Hey, this is the Live Music Capital of the world, not the Sell Out Capital, right guys? Guys?
SXSW probably has something to do with this - the festival that takes over every venue in town and turns the city into a week long showcase of musicians from all over the world. Unfortunately, someone started the rumor that label A&R flunkies are here in droves looking for the next big thing, so hundreds of other chancers show up to play in any coffee house, restaurant or parking lot they can find and, like any kind of bad infection, it goes untreated and covers the whole city. Of course, A&R people aren't here for the music. They're here for as much free food, booze and swag as they can pack into their messenger bags. But that doesn't stop downtown Austin being besieged by about 200,000 people every year, like the Ironborn sacking the coasts of Westeros. Assholes. I wonder if Winterfell would have been saved if the Starks had been sporting t-shirts that read "Welcome to Winterfell, please don't move here."
The thing is, these tourists are slowly killing Austin by converging on it like a pack of hungry jackals on carrion. The massive crowds are the reason people think we need so many more hotels, and the moneyed assholes who like the city so much are the reason the Austin skyline has cranes as a permanent fixture. Condo buildings have sprung up like weeds, and...well. It's not ending any time soon:
Lenders are still cautious about condominiums, but have backed several hundred rental apartment units now under construction. Riverside Resources, a developer here, is midway through construction of Third and Brazos, a 277-unit apartment project just a block east of Congress Avenue, which runs north-south through the center of downtown.

Gables Residential is digging the foundation for Gables Park Plaza II, which is planned as a 222-unit, 18-story apartment building eight blocks west of Congress and overlooking Lady Bird Lake, a center of activity for runners and boaters.

Several other developers are prepared to begin multifamily construction in the heart of downtown, which is bound by the lake on its southern edge and the Capitol building to the north. Its general boundary on the east is Interstate 35 and on the west is MoPac Boulevard.
Also, this.
But despite all the tourists clogging up everything (inlcuding parking OH MY GOD good luck parking within five light years of where you actually want to be), SXSW can be a lot of fun. Every venue is taken over, but you can leave when you like, find a bar that isn't TOO crowded and relax. Or drink more, without your ears being assailed by the latest band who thinks the Dead Weather are the most original thing to come out in years. You can even occasionally chance upon a band you'd have never normally heard who are really awesome. But the biggest selling point is not being trapped in a fenced-in dust bowl where a sad looking soggy brisket sandwich will cost you $15 and a 12oz Heineken will cost you $10.
And here comes the crux of my rage, my most hated festival - Austin City Limits. Largely boring lineups, Zilker Park gets so dusty you feel like you're being used as some kind of bioweapon test subject, traffic on Mopac highway grinds to a halt....ugh. And the worst part is when they do get a band in town you want to see (like when Metric were in town last year) they are guaranteed to be playing some kind of ACL affiliated "nite" where assholes with day passes get in for free and tickets sell out immediately, and they'll be at Emo's (no longer the amzing "Emo's" of legend, by the way, but now a corporate-owned neon-lit barn) which is my least favorite place in town.
The whole reason I am so fucking pissed off is that I am DYING to see The Joy Formidable, but they're booked for FUCKING ACL, which means no club shows in town.
That's really it. One band I won't get to see when they're in town has brought all my hate boiling to the surface, causing this Krakatoa-esque eruption of bile on 200,000 unwitting bystanders. GET OUT OF MY TOWN, I WANT TO SEE THE JOY FORMIDABLE.
Addendum: Fun Fun Fun Fest is the business.