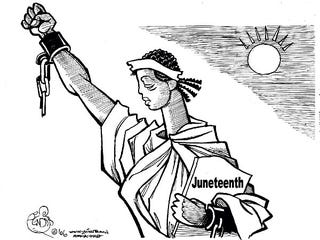 Juneteenth (June 19th) is an annual celebration commemorating the ending of slavery in the United States. Juneteenth is a day of reflection, a day of renewal, a pride-filled day.
A LITTLE BACKGROUND:
Juneteenth's origins go back to June 19, 1865. It was on June 19th (henceforth "Juneteenth") that Union troops gathered and descended upon Galveston, TX, the last known slave stronghold, with news that the war had ended and the enslaved were now free. (This was over two years after President Lincoln had signed the Emancipation Proclamation.. There were multitude reasons Texas insisted on acting in defiance of Lincoln's order but that'd take an even longer post!)
After the liberation, African-Americans began to celebrate Juneteenth, with it eventually becoming a state holiday in Texas (1980). 43 states and DC have since followed suit, but as of yet it's not a federal holiday.
It's an important day in history for us all, but noted author Tom Feelings put it best:
"Juneteenth is a day of reflection, a day of renewal, a pride-filled day. It is a moment in time taken to appreciate the African American experience. It is inclusive of all races, ethnicities and nationalities - as nothing is more comforting than the hand of a friend....Juneteenth is a day on which honor and respect is paid for the sufferings of slavery. It is a day on which we acknowledge the evils of slavery and its aftermath. On Juneteenth we talk about our history and realize because of it, there will forever be a bond between us."
There are lots of activities going on today to commemorate. Any plans for celebrations today? Thoughts on the holiday? Ideas on how to get it recognized as a federal holiday? Post below! I'm excited to read the great conversations and thoughts coming out here!