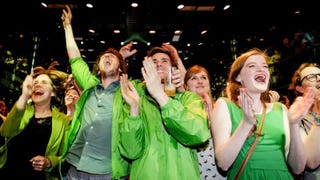 The western world breathes a sigh of relief as Geert Wilders' far-right white-nationalist Party for Freedom (PVV) did not take the top spot in the Dutch election. For months polls had shown PVV either largely in front of incumbent center-right party People's Party for Freedom and Democracy (VVD), but on election day the Dutch soundly rebuked the white-nationalists. While PVV finishes second in overall votes, it's only slightly ahead of the centrist Christian Democratic Appeal (CDA) and liberal Democrats 66 (D66) on 20 seats. The CDA and D66 are on 19. The VVD is projected to win 33, meaning that VVD leader Mark Rutte will more than likely stay on as Prime Minister, with a new center-right coalition of VVD, CDA, D66 and the Christian Union (a socially conservative party currently on 6 seats) with outside support from the Reformed Party (SGP), a far-right theocratic party that will get little of its agenda done even if it supports the government.
The traditional party of the Dutch left, the Labor Party (PvdA), is on pace for by far the worst result in its history. It is projected to return only nine MPs, down from 38 from the last election. Previously, the PvdA had never been on anything less than 23 seats. It had finished first or second in every election except one.
It also lost almost all of its vote, going from 25% in 2012 down to 5.7%. It had previously never been below 15.1% of the popular vote.
Most of PvdA's support has bled to D66 and the further left GreenLeft, led by Dutch political wunderkind Jesse Klaver. Klaver has already stated he will not enter a coalition government, instead likely becoming opposition leader in the new parliament. His party has gained 10 seats to 14, the biggest leap in their history. It is the single largest true progressive party in the parliament (D66 is quite progressive on social issues, but skews right fiscally).

The PvdA also failed to win a single municipality for the first time in its history. While party leader Lodewijk Asscher did not resign on election night, he is widely expected to in the near future.
The Socialist Party (SP) were also big losers. Expected to benefit from the PvdA's electoral collapse, the SP is currently projected to lose one seat. Many supporters of the left-wing populist party were attracted to Wilders' PVV. Another big winner were the Party for Animals (PvdD). It more than doubled its representation from two to five seats. Seniors issues party 50+ gained two seats, and is now on four.
New parties DENK (founded by Turkish-Dutch people, and considered by many to be closely linked to Turkish dictator Recep Erdogan) won three seats, the right-wing Forum for Democracy (FvD) won three seats. The FvD is considered to be more fiscally conservative than the PVV, but the two parties are much alike.

While this election sees the center-right retain power, those who support liberalism and progressivism are breathing a sigh of relief. PVV's defeat can only go down as an embarrassment, considering that everything seemed to be trending PVV's way. There was even a riot by Turks in Rotterdam on the eve of the election (and a third of PVV's voters stated that that was a big reason for their PVV vote), and still they can't even get within 10 seats. Truly, a center-right government that believes in the rule of law and civil rights is better than a far-right one that doesn't believe in either.