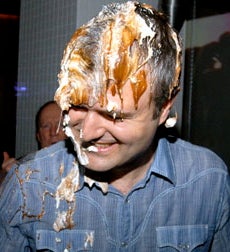 The heady days of summer are over, we've got a long stretch until the next Federally-mandated long weekend, and it's the end of a short workweek. Why not reminisce?
In honor of HamNo's latest "Inside Baseball" post about an old Gawker nemesis, I'd like to hear everyone's wildest conspiracy theories about how you think Nick Denton spends his days.
Also welcome: Conspiracy theories about your favorite Gawker Hall-Of-Esoteric-Fame inductees: writers, commenters, or subjects.