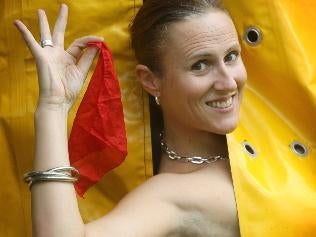 Gizmodo has a post asking readers to submit the Youtube clip they think everyone else should watch, beginning to end. I can't really think of one offhand, but it did remind me of my favorite Youtube of all time: Writer, performer Ursula Martinez doing the "Hanky Panky" (NSFW)
NOTE: This post originally contained the clip from Ms. Martinez's Youtube channel, but that's not the clip which is my favorite and in this one, the lighting's better. For some reason when I substituted clips, the still changed to blank. Click to play; it still works.
BTW: If you're in US or have access to Hulu and if you're not interested in a NSFW clip or just like the concept, skip ahead to the 8:30 mark in this 1978 comedy showcase series hosted by Norm Crosby to see Art Metrano do a similar routine.