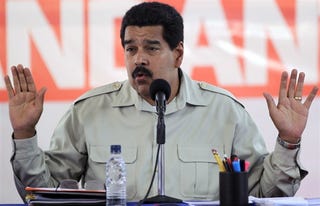 Venezuelan President Nicolas Maduro in "Christ Multiplied the Penises" Gaffe
A slip of the tongue by Venezuelan president Nicolas Maduro that saw him muddle an iconic biblical reference by multiplying loaves and "penises" instead of loaves and fishes has set social media ablaze.
Maduro made the slip-up during a speech on education on Wednesday, when he said, "to multiply ourselves like Christ multiplied the penises – sorry the fish and the bread."
The Spanish word for "penises" (penes) is just a letter away from the word for "fish" (peces) which may help to explain his gaffe.
http://worldnews.nbcnews.com/_news/2013/08/…
In his defense, some of Christ's followers are kind of dicks...