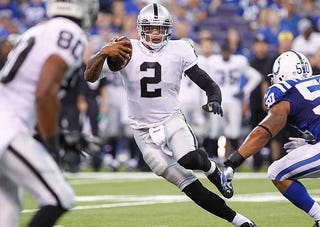 The best of both worlds!
Perhaps my favorite aspect of the NFL is that in terms of the media, the victor claims the spoils. Ironically enough, it is the league who pioneered the art of filling up their studio segments with absolute morons who's managed to resist the lowest common denominator allure of having everything revolve around a couple marquee franchises, regardless of how good they are or aren't.
No, the NFL dances with whoever brought it. Yet somehow, the Raiders were still prominent in the Week 1 wrap-up conversation for coming up with an honorable L. Not that it is difficult to understand- none of us saw this coming.
While Terrelle Pryor is grabbing the headlines, and deservedly so, his performance was nowhere near as pleasantly surprising as the efforts turned in by the offensive and defensive lines. Pass protection held up better than I would have dreamed. Run blocking... still pretty poor. After not doing much in the first half the D line was putting consistent pressure on Andrew Luck later in the game. Both units looked well coached and avoided penalties.
Pryor not only put any remnants of a QB controversy to rest, he raised the possibility of doing more than just keeping the spot warm for a year. It was previously within the realm of possibility that opposing defenses would actually outscore our offense this year. But by the second half of Sunday's game, the Colts' D was on it's toes and having to make adjustments to account for Pryor's running ability. Suddenly, the Raiders are no longer a silver and black golf week for opposing defensive coordinators.
Of course, Sunday also exposed Pryor's current limitations. He's pretty much fucked when he gets into the red zone. When the field gets compacted he doesn't have the room to run, or the skill to pick apart a D through the air. And the kicker for him is, he doesn't have a strong enough defense behind him to be able to pack it in and settle for field goals. He can't afford to just go out there with the hope of not screwing up too bad, Pryor really does have to make some big plays to give the Raiders a chance to win.
And precisely how great a chance he gives us will become very important in establishing a rebuilding plan for this team. 16 games of non-stop embarrassment behind center might make the prospect of spending half our cap space next year on a big name QB and a flashy WR to make him happy very tempting. But after seeing what $20 million a year bought the Ravens in Joe Flacco on Thursday night, that would not be my preferred way of going about things.
It's not like we'll have any idea of what this team is really made of for another month anyway. The Colts run some of the most conservative schemes in football on both sides of the ball. It will be interesting to see what happens when we play against a team more hell-bent on taking what they want from us instead of what we're giving them. Jacksonville is up next, and they are most definitely not that team. Then Week 3 we go to Denver on Monday night, and if that spread is only in the teens I'll consider it a victory.
But at least for a week, the smell of hope is back, assumedly enough to ensure that the home opener sells enough tickets to be televised. Could be worse! Woooooooo!