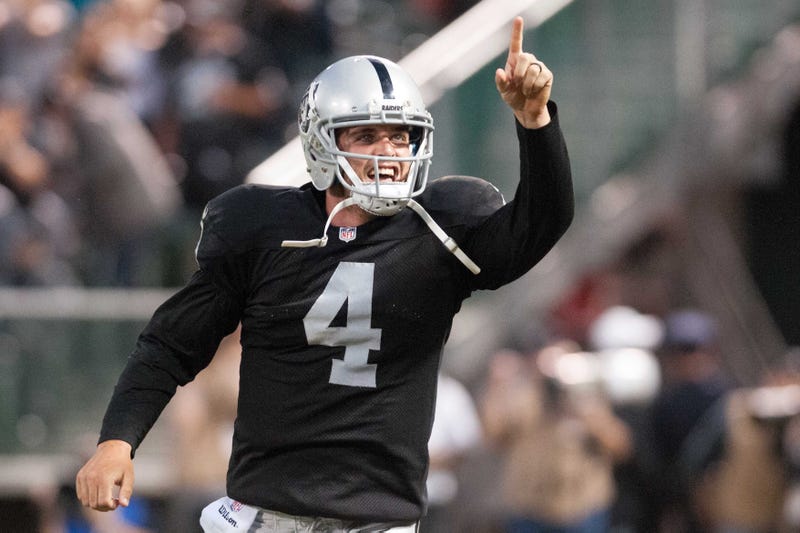 The "highlight" of this game, according to Tom Flores on the radio and mai br0s watching, was the hilariously one-sided officiating, which probably just exacerbated the likeliest outcome of a relatively meaningless game anyway. So let us review the improbably satisfying 2014 Oakland Raiders season.
Trailblazers. Standard setters. Record breakers. Those are your modern day Oakland Raiders. The "deconstructing" 2013 Raiders wrote their name in football history as The Most Overachieving 3-13 Football Team Ever. The 2014 Raiders seemingly came out the gate with every intention of laminating that page in the books and preserving it for eternity. Dennis Allen's 2014 Raiders were atrocious, even without all the contributions to that cause Matt Schaub would have made had he not been beaten out in camp for the starting QB job by Derek Carr.
The 2014 Raiders were somehow managing to be worse than the shitty, shitty 2013 Raiders, even after spending in the tony neighborhood of $50 million in free agency and finding a competent QB. They were facing one of the tougher schedules an NFL team had ever been assigned, including being the league leaders in miles traveled by a wide margin. A .500 finish would have been a miracle. But it was beyond my comprehension how they could be, by all appearances, worse than last year. That's my Raiders.
Allen was rightfully fired after the Raiders put up zero fight in an embarrassing loss to Miami in London to get to 0-4, concluding the easy portion of the schedule. Everybody knew his job was on the line, and the team packed it in after the first quarter. He had to go. But in many of our opinions he wasn't anywhere near as responsible for the sorry state of the Raiders as GM Reggie McKenzie. 0-16 began to feel like a very realistic possibility.
But I'll be damned if interim head coach Tony Sparano didn't right the ship. The losses continued to pile up for awhile, but the team continued to put in the effort, especially in contrast to the Miami game. Immediately after things got bad enough for a "Hire Hue!" ad to be taken out in a local paper, they finally squeezed out a win in their only nationally televised game of the year against the Chiefs.
Two weeks later, with a disheartening loss to the Rams in between, the Raiders beat the Niners. Beat them pretty good, too, with no newsworthy drama at the Coliseum. A report that 5/5 NFL personnel guys interviewed preferred Carr to Kaepernick had been making the rounds during the preceding week, and Carr made five anonymous dudes look pretty smart. The Niners had already been going into the tank, but with their playoff hopes on the line and our 52-0 defeat in St. Louis the prior week, this was a shocker.
And just like that, the 2014 season became a success. Fuck the Niners. Another win featuring Khalil Mack running wild over a Buffalo squad still in playoff contention in our last home game of the year proved it wasn't a fluke. Fuck the Broncos, and double fuck the refs.
And here we are. Seeing as how the 2011 season culminated in a monumental choke job including a loss to fucking Tebow, and the uncertainty we were left in after Hue lost his shit and became unemployable, I have absolutely no problem whatsoever saying that this is the most satisfying, and promising, Raiders season since they last made the playoffs. Sad but true, yet true enough to not be so sad.
In fact it ended with so much promise that it's looking like Reggie McKenzie will be keeping his job. And it ended with so much promise, that I might not even be mad! He nailed the 2014 draft. With Mack and Carr, it's like we got the first two picks in the draft and nailed them both. I will still be the first to concede that over half of us could/would have done the exact same thing. But he took quality players throughout the draft, and even taking into account his unspeakably awful job in 2014 free agency, it's tough to give the boot to the guy who won the draft because this team didn't win this year. Rodger Saffold did indeed have shoulder issues after his failed physical debacle, and Lamar Houston wasn't impressing in Chicago before tearing up his knee celebrating a sack in a lopsided loss. Donald Penn had an excellent year and covered Reggie's ass on letting Veldheer go.
It's always been my problem in ripping Reggie's free agency haul- what would you do different? No Schaub, and no MJD, for sure. Those were terrible moves, and it still makes me very nervous that somebody getting paid to run a football team thought that would be an NFL-caliber backfield in 2014. But aside from those two, it looks like more of a bad year for free agency than bad moves. Even LaMarr Woodley, who gave us nothing, was probably worth the risk. And I believe Austin Howard was the only guy Reggie made any real commitment to, and he looks to be worth it. All the old guys are on team-friendly contracts.
It was also nice to see us snag some guys like Benson Mayowa and Kenbrell Thompkins off waivers this year. Our lack of activity in that regard had been conspicuous the past few seasons. We can't be this bad, and not have any use for some of the better teams' scrubs.
So I'm willing to give Reggie the benefit of the doubt for 2014, but he can't shoot bricks like that in free agency in 2015, which is supposed to be a much better group. With acknowledged franchise building blocks on both sides of the ball, it should be easier to entice some guys who are still on the upward arcs of their careers.
And of course, we still need a head coach. The initial names to pop up in the search after Jim Harbaugh signed with Michigan were retread-y enough to warrant some worry and some lolRaiders blog posts, but the requests for interviews with the Bevell's and Bowles' came out shortly afterward to make us all feel relieved and look stupid, respectively. Mark Davis has insisted that money won't be an issue in hiring a coach, and that better mean he's just as willing to spend it on rounding out a quality staff of assistants as he is in bringing in a glamor name like Harbaugh or Gruden. But Mark is another guy I'm willing to give the benefit of the doubt to right now. Sure he's funny lookin', but so's your mom. In stark contrast to his dipshit-in-arms down the way Jed York, Mark Davis is always public and pleasant. Haircuts aside, he hasn't made an ass of himself yet, and not for a lack of opportunities. He seems to get it, and his team is on the upswing- also in stark contrast to his dipshit-in-arms down the way.
If there was one thing I loved about this season more than beating the Niners, it was Raider Nation itself. Losing builds character, and lord knows many of us were already pretty solid characters to begin with, but this has become a good group... a good group. You can't still be down and not have hella motherfucking heart. I'm not sure there has ever been a more content bunch of 3-13 fans, and that is a beautiful thing. I'm not sure I've ever seen a better display from a fan base of such a bad team. I am sure, however, that Derek Carr deserves most of the credit for that. It's been a tough decade-plus, to say the least. But we finally got ourselves a QB, the kind who can make good things happen all up and down a franchise.
Let's rock.
Big thanks to everybody reading this. We're now two years deep. Whether you know it or not, you love this team.