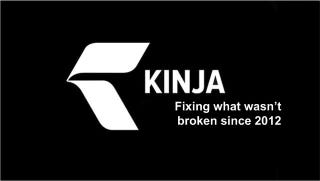 Back when Kinja was a new bad idea, Gawker plastered the mugshot of the creepo that shot Gabby Giffords everywhere. I was able to easily block it with AdBlock which then made practically every future instance of it disappear as well.
I spent way too much time today trying to configure AdBlock to block that huge, annoying picture of Kristin whats-her-name that runs every goddamn day, but apparently the design of current Kinja assigns a unique path and filename per usage that only allows me to block that one particular instance.

Oh well. Yet another reason to stay off Gawker's main page.

I imagine that it will resolve itself sooner than later, as the author of this lovely piece of journalism will probably be long gone before day 500 is reached.