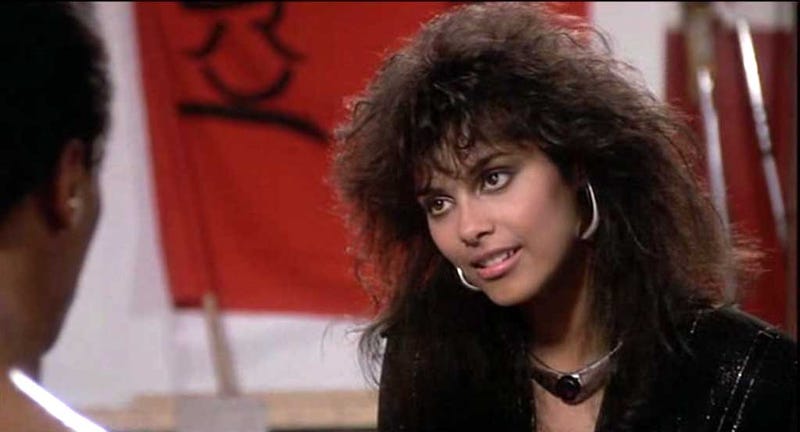 Great googly moogly, look at that woman...
You know Vanity. You know her from rolling with Prince. You know her from The Last Dragon, an undisputed classic of modern American cinema. You know her for being fine as hell.
You may or may not know that she was married to former Raiders defensive end Anthony Wayne (yes, not to spoil it, but dude gets the first-middle-and-last treatment now, so brace yourself) Smith, who last month was sentenced to three life terms in prison off some very scary shit.
Vanity went the born-again route after an overdose in '94 and was rolling hard with Jesus when she was married to Smith for a year or two in the mid-90's. They split right before he retired from football after a solid but ultimately disappointing career that was not without occasional exhibitions of the pass rushing talent that made him a first round pick of the Raiders.

When he was drafted out of the University of Arizona, I swear I heard that he had killed a couple kids when he was younger, something vehicular. If true, that particular endeavor would be something that he would indeed excel at in the future.
Smith has been convicted of killing three people and had proceedings for killing a fourth man end in a mistrial. He did not appear to be fucking around, either. I believe all the victims were "associates" of his. And he was straight dressing up as a cop to kidnap, torture, and kill dudes.
Imagine that shit. This is a guy who isn't built "like" a football player. He was literally an NFL DE, and an underachieving guy who people often wondered about as to why he couldn't put it all together on the field. I would rather have Khalil Mack want to kill me than a guy like that. I would rather piss off somebody who has their shit together enough to just finish the job and get on with their ballin-ass life. A 250, 260 lb. guy with elite athletic ability, who everybody has always wondered which screw is loose, down to pick you up at work dressed up as a cop? Fuck THAT.
Ken Stabler has now made the NFL Hall Of Fame (author's note- OOOOOOOHHHHHHH FUCK YEAHHHHHHHH MOTHERFUCKERS!!111!!!1!!!!). Anthony Smith is undoubtedly a first-ballot inductee into the Psycho Hall Of Fame. And Vanity danced with that devil and just kept it movin...
I might have to look into that God shit.