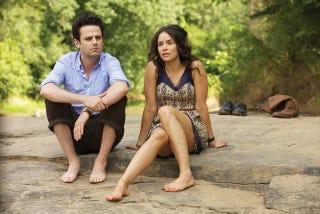 Did anyone catch "Rectify" on AMC right after Mad Men? What a pleasant surprise. I wonder if Sundance realize that airing one episode of a show that is airing on a niche channel isn't going to inspire subscribers, it's going to make people (like me) think, hooray, another show to torrent! So I'm downloading episodes two and three right now.
Didn't catch it? Don't take my word for it (even though you should, because I am right about everything). The AV Club has a glowing review up and those guys know good TV.
And just to tie it to Mad Men, Abigail Spencer played Sally's teacher that Don fucked.