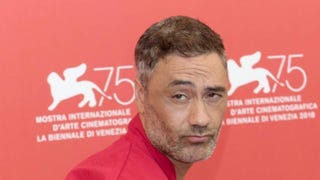 Clashtalkers, I don't think Keanu would mind if we shared some love (and lust) with the Antipodeans.
The Venice Film Festival kicked off yesterday, and while I am already groaning about the reviews for First Man, let's take a look at the jury, shall we? For once, it is refreshingly gender balanced, if not reflective: 4 men (including Guillermo del Toro and Christoph Waltz) and 5 women (including Sylvia Chang, Naomi Watts, and Trine Dyrholm). But there is also Taika Waititi, who demonstrated quite handily why he is Kiwi Bae.
Fittingly, I just rewatched What We Do in the Shadows, and while Jemaine Clement was the draw when I first watched it, Waititi's Viago stole the film, and my heart along with it. Here is a tall, dark, and handsome vampire dandy with a divinely chiseled jaw...but, surprise, he's actually an awkward, dorky goofball with an oddly endearing sense of humour.
Ditto Waititi. (Don't be jealous, Keanu. There is enough love on CLT for both hemispheres.)