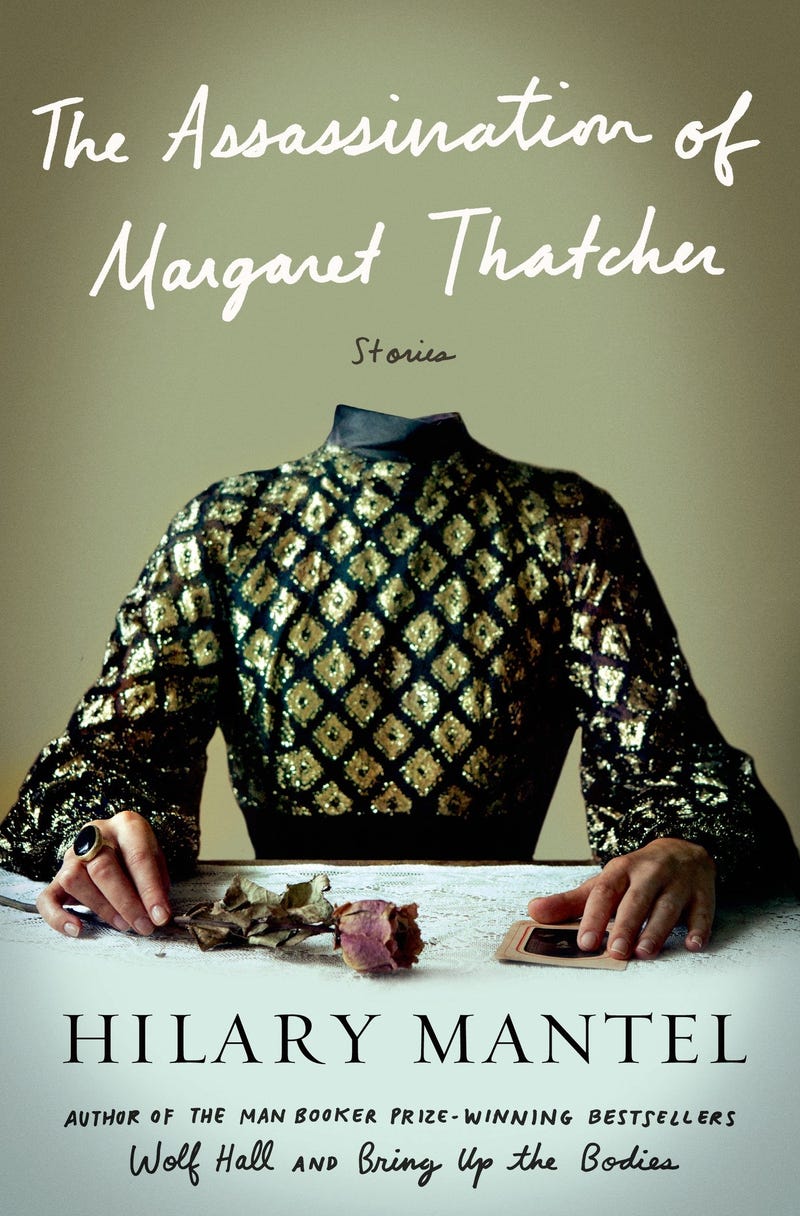 First things first, I'm not a writer so I don't quite understand why this short story collection features a majority of previously published work. That seems kind of like recyclage to me. But I'm the sort of anal-retentive person who sorts his pencils by length then uses the longest pencil to sweep the erasers even so perhaps it's just me.
Just wanted to give Hilary Mantel a shout-out for being awesome, and making statements that show a general disregard for propriety and a willingness to discomfit the reader.
Since many of the stories are fairly recent I gathered some links in the hopes that you would read these stories whose subject matter could be broadly bounded by "women, suffering, in the first person".
1. Sorry To Disturb, a British housewife in Saudi Arabia unwittingly becomes the object of an immigrant's affections.
2. Comma, a young girl and her dirt-poor friend discover another marginal human being.
3. The Long QT, a reversal of "The Story of an Hour" I suppose.
4. Winter Break, you see the end coming but you avert your eyes anyway.
5. Harley Street, not available online.
6. Offences Against the Person, not available in full, about a young girl floating above the disintegration of her family.
7. How Shall I Know You?, not available gratis. I think a theme with Hilary Mantel is that if she saw you getting mugged in an alleyway she would probably continue walking and not even call the police.
8. The Heart Fails Without Warning, read before eating. A young girl is oblivious to the gravity of her sister's anorexia, and the narration is so cold and disaffected it made me sick, which is the best kind of feeling to get from a book.
9. Terminus, not free, the odd one out but nonetheless an interesting perspective on the motives of the supernatural and transcendent.
10. The Assassination of Margaret Thatcher: August 6th 1983, highly literary intrigue, very gripping and somewhat like an oddball romance. The namesake of the book but only because it's the newest really.
On the London Review of Books site you have the option to register a free account for one-shot 24 hour access. I tried it and it does work, bringing you to about 90% coverage for the text.
For my sake, please read the texts, they are only a few hours long collectively. I used to drive by Mantel's Wikipedia page and think she sounded so boring with titles like "Every Day Is Mother's Day" but now I'm convinced the slip-and-twist technique with a dagger she ascribes to Cromwell in Wolf Hall is just a bit of her own personality bleeding through.