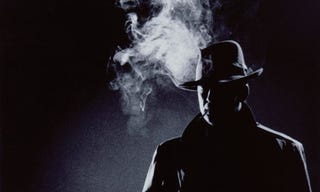 Buckle up Clashtalk because we've got a mystery on our hands. Seems like someone from The Atlantic has been scooping some hot takes from yours truly and I intend to wind up all kinds of wild speculation as to who this scrivener of dubious character might be.
FACT: In this post on Ted Cruz on February 1st I pointed out that Ted Cruz wears two watches.
FACT:I was being obtuse in pointing this out and knew right away he was wearing a FitBit. I don't care. I hate Ted Cruz and wanted to call him out for being a double watch wearing nerd.
FACT: It was pointed out to me that as of 3pm February 2nd that Robinson Meyer of The Atlantic just happens to write about Ted Cruz wearing two watches a day after my comment.
Wild Speculation: Robinson Meyer comments on Gawker and looks for hot takes to scoop.
Wild Speculation 2: I wasn't the only person who noticed Ted Cruz's two watches (yeah right).
Wilder Speculation: I AM ROBINSON MEYER AND I DON'T KNOW IT