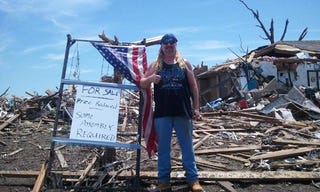 ...plus Fusion TV, according to a report in Variety. All of Fusion Media Group, in other words.
If you have a subscription to the WSJ, you can see the original report here. (Or get around the paywall by Googling "Univision eyes sale of" and access the story from the Google search results.) It says in part:
The decision to sell Fusion Media Group comes after a business review by Boston Consulting Group this year recommended cuts in the range of $200 million across Univision. The cost-cutting has already begun at Fusion Media Group, which recently underwent a round of employee buyouts.

The Boston Consulting Group review recommended combining Univision's digital assets with those of Fusion Media Group, which have been operating separately from its corporate parent, according to people familiar with the matter.

Keeping Fusion Media Group separate from Univision would simplify any potential sale of the company's English-language digital assets, according to a person familiar with the company's strategic plans. Prospective buyers could cut a deal for the company's English-language assets cleanly without acquiring any other assets in Univision's portfolio.