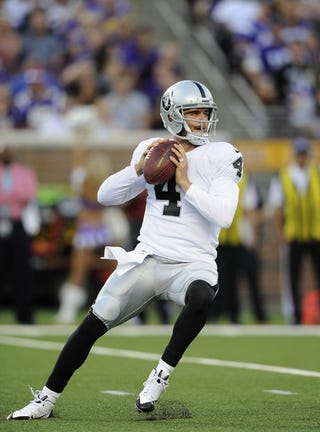 #startthecarr
The last time the Raiders won a game on the East Coast was The Gradkowski Game (BRUUUUUUUUUCE!) in Pittsburgh, December 2009. Today, the Raiders boarded a plane to New York with the intention of changing that.
Labor Day afternoon it was announced that Derek Carr would be starting at QB over Matt Schaub. Schaub had been nursing a dead arm (to match his empty, soulless face), but head coach Dennis Allen insisted the change was made because Carr won the job outright. An 11-13, 3 TD performance in the final exhibition game, much of which came against Seattle's starting defense, will do that for you. Well, when your competition is Matt Schaub at least.
Any wins the Raiders would have gotten with Matt Schaub this season should not have counted. They would be completely irrelevant to the present or future of the team. He was not the worst signing, but it was made even better by the fact that he'll be riding the bench. The $8,000,000 or whatever ungodly amount of not-my-money Scahub's getting that we had more than enough of under the cap and wasn't going to be helping us this year anyway is a perfectly fine investment in the Derek Carr maturation process. STEP 1- be better than a shitty, washed up Matt Schaub. Check!
I would not have been mad had they sat Carr through the bye week with the assumption that Schaub would have blown the job by then. Wouldn't surprise me if that was the original plan. But our schedule made that problematic. With three winnable games against the Jets, Texans, and Dolphins among the season's first four contests, that represents far and away the best window for a string of successful results the team has all season. The Jets will not be fielding an NFL-caliber secondary on Sunday. Some people who are supposed to know more about football than us are stressing the poor prospects of a rookie QB having to face a Rex Ryan-led defense. Personally, I would like a detailed explanation on how wasting an opportunity against a scrub defensive backfield on Matt Schaub and his ouchy elbow is any better an idea. And you know the Texans would have been licking their chops to see him across the field next week.
There is really no downside to starting Carr from the jump. Again, a month to sit and watch, get comfortably into a game-day routine, that sounds ideal. But for this team to sit this player all season would have been fucking stupid. The worst thing that happens is he either gets physically crushed or looks like he can't cut it after all. Those are two things, fragility and incompetence, that are they indeed in the cards for this young man, they are inescapable. Let's find out while we're going into a supposedly QB-heavy draft with a top-5 pick. I don't subscribe to the whole line about not playing QBs too soon to preserve their confidence. Any QB that can't handle the stress of playing for a shitty team doesn't need to be leading my squad of choice down the field with a playoff game on the line.
Whether it's Carr's seemingly infectious enthusiasm, or the absence of any history of throwing pick-six's at a historic level, this one personnel move alone will allow the Raiders to have at least something of an optimistically crappy year. 5-11, with flair! Assuming he manages to stay upright, this season is no longer the death march it appeared to be a week ago. And after last Thursday's performance I'm not even going to speculate on what Carr's ceiling might be. He made all the throws. He caught breaks. He made Denarius Moore look like a football player again, for crying out loud. Anything is possible.
The loss to the Jets last year was quite possibly the most frustrating game of 2013 that wasn't entirely the fault of dumbass Matt Flynn. Geno Smith looked horrendous. As soon as the 2014 schedule was released, I was chomping at the bit to go right that wrong, and to get that goddamn East Coast monkey off our backs. And that was when I still assumed I would have to be somehow forcing myself to morally support Matt Schaub. By flying in a day earlier than usual the Raiders openly declared that they were treating this week as a statement game. The Raiders will probably not win many games this season. But if they can win this one, we may not be repeating that last sentence again this time next year.
Oh man, motherfucking go Raiders.