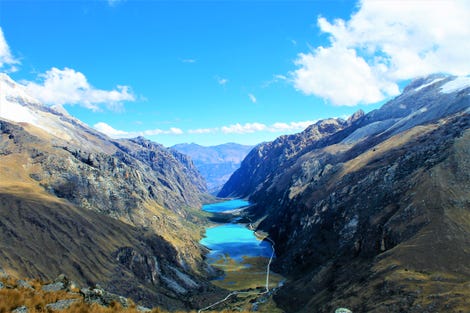 Six months ago the tremors began in earnest. You never really notice it when it first starts. Perhaps it's just a twitch, a spasm. Maybe you've just not been sleeping enough. But then, one day, you're asked to show something on your phone and your whole hand is shaking. Your face flushes as you wonder if they'll say something. Surely they couldn't not notice. But, invariably, no one says anything and you let it fade to the back of your mind.

When the headaches begin is when you start to wonder. It's a sharp pain in the back of the head that radiates over a few hours to an endless pressure behind the eye. The pain is intense and then mild. Though hours of headaches a day - they must be migraines? - are an inconvenience but what can you really do?
Every morning you wake up and you're tired, no matter how many hours of sleep. Every day you get tired doing moderate tasks. Your active life is replaced with sedentariness. So, you begin to fall asleep earlier and earlier. 7PM is the new midnight. But the changes provide no benefit and the symptoms give no quarter.
Brain fog is where the battle lines are drawn. Your sentences begin to trail off into the ether. You receive blank stares back as you can't really respond to a query or you prattle on and on but realize nothing was even said.
At first you try to hide it. But you can't hide from yourself and when the toll is taken over and over you realize it is time for exploration. What better place to go in modern society than WebMD. Everything is cancer. Everything death. The regret and worry set in immediately. Let me click on this one. Ooohhh, do I have that symptom?
Doctoring is an inexact science. More master puzzler than precision sniper. You'd think we'd have better diagnostic tools at this point in time, but what can a doctor do but listen to you and try to piece together the puzzle. Our memories are fallible, our perception wildly incorrect. So when the stern look on the doctor's face indicates their own worry you wonder what comes next.
What comes next is blood work and imaging. Hop onto a bed and get sucked into a tube. Remain still. We'll let you know in a week.
The week is filled with the worst. Is it a tumor? Am I dying? How soon will I be gone? Who will help teach your son to be a good person in your absence? Are we all narcissists as we lay dying?
I never thought I'd long for quotidian life. If the Internet 2.0 has taught us anything it is that a curated life is all that matters. Here is my amazing looking lunch I took 3 hours preparing so I could post it online. Here is this lovely gothic-church set aflame I took a loan out to visit. But when you feel the end is nigh you long for the comfort of boring-ass work. Of your family annoying you. Of anything that reminds you of length of life and warmth. Of love and the happiness busyness provides.
The waiting while torture is better than the end result sometimes. Well, you don't have a tumor. But we don't know what is going on. We need to test more. Try different things. Go see this doctor and they'll know.
Well they sure as hell know how to provide an "experimental treatment" that your insurance doesn't cover to the tune of $814. All for $3.00 worth of medical supplies.
This isn't a story about dying. Or a treatise on the absurdity of the American medical system. Though to some degree those are both true.
This is more a story about how last July I went to Peru (everyone should go, but fuck Machu Picchu. Eat at Central or Astrid y Gaston in Lima. Go to Chinatown. Take a bus up to Huaraz and enjoy the Cordillera Blanca etc) and climbed some mountains, ate wonderful food, met amazing people and still wish I never came off that peak because at least there'd be certainty.
I know this is rambling nonsense. I'm sure no one will get to this point. See ya.