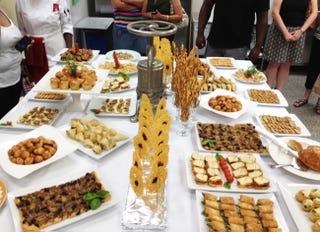 Ok, I'm in a bit of a jam here. My wife got talked into hosting some suburban housewife ritual called "bunko" where a group of women get together for a wine-drinking contest and gamble with dice. While perched upon my usual cloud of disinterest in neighborhood things, about a week ago I evidently agreed to make the hot, heavy hors d'oeuvres that the hostess is on the hook to provide.
As we were grooming for our day, she cunningly said "I'm excited to see what you make for tonight - you're such a good cook!" Fortunately, I landed on my feet and said "you'll just have to wait and see" as I gave her my best coquettish smile. She landed in that area where she thinks I will probably do something interesting, but also that I may have forgotten altogether, hence the reminder.
I will look like a total prick if I do something frozen, so I need help: a proven recipe for hot, easy and fast to prepare hors d'oeuvres that will feed ten hard-drinking, suburban housewife gamblers.
Help?