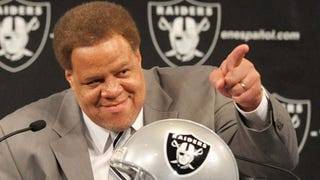 The draft is here! So allow year three of the hardest-hitting Raiders blog in the universe to begin with my annual acknowledgement that I don't watch college football, and all the opinions forthcoming are largely an aggregate of the draft coverage of people who have actual sources and know what they're talking about. First, let's take a quick look at the Raiders' haul in free agency...
Much like they did in rounding out their staff of assistant coaches, the Raiders took their time in free agency. The closest thing to a "sexy" signing they made was former Chiefs center Rodney Hudson, considered one of the best in the league, with a contract to match. They definitely made major plays for Ndamukong Suh, who signed a huge deal with Miami that will screw their salary cap for its duration, and Randall Cobb, who resigned with Green Bay for millions less than ourselves and Jacksonville were reportedly offering. After that, they either eschewed or drew no interest from the bigger names. Terrance Knighton supposedly let himself fall outta shape something awful, so the Raiders quickly moved on to signing the next best defensive tackle on the market, Dan Williams from Arizona. None of the many rumored signings of Jack Del Rio's former charges in Denver ever materialized. Probably because Del Rio knows even better than the rest of us that all Denver Broncos are stupid and sucky.
Curtis Lofton was signed away from the Saints to immediately plug into the starting MLB spot and stop the run, with Malcolm Smith coming over from Seattle to play on passing downs at linebacker and finally give us some depth at the position. Nate Allen comes over from Philly and is penciled in as our starting free safety. Iggles fans lay a lot of the blame for their shitty secondary the past few seasons squarely on his shoulders, but the PFF rankings put him in the top half of NFL safeties, and Reggie had been trying to bring him over here for a couple years, who knows...

Roy Helu was signed as a third-down/change-of-pace back. OH SHIT, THE RAIDERS HAVE NFL-CALIBER SITUATIONAL PLAYERS NOW! Amazing. Trent Richardson was brought in, to much laughter, to see if he can get his shit together and start, or be third-string. No harm in that with our significant salary cap space.
At this point, it was hard to be too excited about the Raiders' free agent crop. Critics were giving them more props than fans for taking a more patient approach to throwing $50+ million dollars around, and seeing Tampa Bay jettison all the high-priced free agents they signed last year that took them all the way to the top of the 2015 draft makes our approach appear even more sensible. The Raiders had too many holes to fill to set themselves up for a bust and an injury ruining an entire season.

Surprisingly, the late signing of Michael Crabtree didn't impress much of Raider Nation either. I love it though. Three million for one year, can be worth up to five with incentives? Between our available salary cap space (the Raiders are still around $20 million under the cap, and the Vikings trade demands for Adrian Peterson are ridiculous so that's not happening. Other than snagging a veteran guard and maybe some more depth in the secondary, I have no idea how they're going to use that) and desperate need at WR, I don't see any way this isn't a great move for us. The best comment on it I've read was somebody on one of the Raider blogs saying that if the Patriots had made the same move, everybody would be going crazy about how Belichick had done it again! Of course, there is the problem of attaching the "again" to any individual shrewd personnel move by the Raiders these days, but you get the point.
The Crabtree signing also now gives the Raiders a lot more flexibility with the #4 pick. The two big expected storylines going today are what's going to happen with Marcus Mariota and when is the run on WRs going to start, and the Raiders figure prominently in both of them. Consensus opinion among Raider fans is that we'd like either defensive lineman Leonard Williams, regarded by most as the best player in the draft but likely to fall to us due to the needs of the first three teams picking, or WR Amari Cooper. One of those guys is there at #4, it's assumedly a done deal.
At this point last week, it sounded like they both might be there for us. And they indeed still may- Jacksonville has been rumored to be preferring taking Florida DE Dante Fowler with the third pick. But rumors coming out the past couple days have them seriously considering taking Cooper. Tennessee is picking second, and Mariota is roundly expected to be the pick there, regardless of what team makes it (the Chargers, Browns and Eagles are all rumored to have strong interest in trading for the second pick/Mariota). But if all that falls apart, Leonard Williams becomes their pick. There was increased chatter yesterday that he won't be lasting until the fourth pick. So what was looking like a can't-miss coin-flip at this time yesterday has become something of a nervous situation. WR Kevin White is being graded out pretty even with Amari Cooper, the difference being Cooper is more polished and White is a bit more athletic and has a higher ceiling but only excelled for one year in college. It's a longshot, but if Cooper and Williams are both gone, smart money is on Reggie trading out of the fourth pick. That would also mean Mariota would still be available (Jameis Winston will be going #1- good luck with that, Tampa), so Chip Kelly and the Browns would be likely be throwing crazy offers at us.

More realistically though, Atlanta is said to be looking to trade up from the eighth pick to grab Fowler. Kevin White isn't lasting past Chicago at the seven spot in all the mock drafts. Who knows how Reggie has the WRs graded... last year he was supposedly going against the grain and putting Mike Evans at or even above Sammy Watkins, and that turned out alright. Devante Parker out of Louisville is widely considered the third-best WR, and deemed worthy of the top ten by many. Many people have Breshad Perriman going to the Rams with the tenth pick. The word on him is that he's big and fast, but can't catch- we are not fucking taking that guy. The blood of the Darrius Heyward-Bey pick is not on Reggie's hands, but it's still in our eyes, clouding our vision. Never again. WR is considered the deepest position in the 2015 draft, and although guys like Nelson Agholor and Perriman who were originally expected to be there for us at pick #35 have been shooting up towards the first half of the first round, quality WR prospects will definitely be there for us at the top of the second round, and maybe even the third. DE Preston Smith is the most-mocked second-round pick for the Raiders if they do snag Cooper.

If Reggie drops back towards the middle of the first round, I wouldn't be surprised if he goes after pass-rusher Bud Dupree out of Kentucky. Dupree is being mocked anywhere from Atlanta at #8 to out of the first round altogether. Some people think that's who Reggie has fallen in love with this year, and all the scouting reports I've read are cool with me. One of those athletic freak guys who never really nailed down a position in college, his biggest knock is he supposedly isn't great using his hands along the line. That strikes me as one of the easier and most realistic aspects of the game to coach up. If Reggie thinks he's special, moving back to take him while accumulating some more picks and then taking the best available WR in the second round sounds like a solid plan of attack.
And speaking of plans of attack, we will also have the sickening thrill of waiting to see if anybody will draft La'el Collins, the offensive lineman from LSU who kinda sorta looks like he may have pulled a Rae Carruth and possibly had a woman pregnant with his child killed. He said he is making every effort to cooperate with the investigation to clear his name before the draft. Last thing I read on the subject before I went to bed last night was that the cops had yet to hear from him. Hmmm... it's the perfect NFL story for 2015, really.
So, Raiders fans, tonight is shaping up to either be immediately triumphant, or a drawn-out nail-biter. Of course there is always the chance that Reggie does something crazy, but for all his weirdness he really has been more of a chalk guy in his drafts so I'm telling myself this one is fairly cut and dried. I am telling myself that real, real hard though. And hopefully we all get more opportunities to point and laugh at the ongoing destruction of the Niners. Everybody can enjoy that.
Go Reggie. Go Raiders. Go to another franchise, Breshad Perriman.