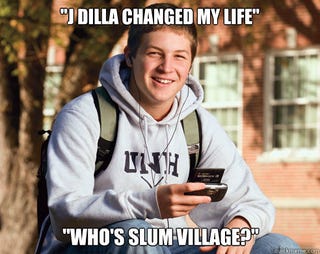 New Dilla and a dream, and GTFO.
It's on once again this Saturday. And, once again, there really ain't shit coming out other than dumbass overpriced represses and picture discs whose only purpose in this world is to push back the pressing schedule for real records so that some dude can have a sealed copy of some bullshit on his mantle.
The exception is Jay Dee's The Diary, the last album he supposedly wanted released intact. On this one the overwhelming majority of the production is left to the fam while Dilla focuses on the mic. Cassette and CD actually come out on Friday. The RSD vinyl version comes with a Pete Rock-produced 7" that will not be included in the regular version.
My dream for this album is that it creates quite the conundrum for the "Dilla saved my life" crowd. The way the pat-yourself-on-the-back rap fans gas him up, you'd think Dilla was Common Jr. on the mic. He decidedly is not. His raps were usually rugged as fuck, and the tracklist suggests the subject matter on this one won't be a dramatic departure. Woulda been cool enough to me in and of itself, but if this record is on some bitches and hos and ice and "DDT ya, just like Jake The Snake" shit, the fact that it will surely be a problem for the softies will give it extra appeal. Rap is talking shit. Deal with it.
Aside from that, there is an Egyptian Lover box set Stones Throw is putting out that should be fun enough if you got the dough and desire. And that's about it. A couple things drop Friday, like the new Mr. Lif and Cavanaugh LPs. Stoked for the Cavanaugh- it's Open Mike Eagle and Serengeti (don't know a damn thing about him) rapping as handymen working in a mixed-income apartment building. Seriously. I expect references to the Ellis act and snaking vomit-filled sinks. HARDWARE STORE RAP, MOTHERFUCKERS.

My advice to RSD is, as usual, skip the lines at opening and hit the spots in the afternoon. Big shops should have something for you regardless, small shops are likely to have beer. Win-win. If you're in the Bay, I'll be playing a set of Bay and LA rap at SF Amoeba at 4. Feel free to come see me.
It's been pretty slow for new music the last month. Let's see what all has made it into the crates...
Dibia$e- Baker's Dozen

This is the first installment of Fat Beats' Baker's Dozen series, which will be limited pressings of 500 records by producers of various genres consisting of twelve instrumentals. 250 of them will randomly include a thirteenth track on a flexi-disc. I wasn't thinking much about it, but it looks like this one is already on the fast track to collectibility.

I was lucky enough to score one with the flexi-disc. Yay. Flexi-discs were cool when they were extras coming in magazines. Fuck yeah, I'll take a free record. Flexi-discs as a legit format is some bullshit though. They're noisy enough when perfectly flat, and a pain in the ass to keep that way. No idea who thought people would want flexi-discs instead of real records, but we shouldn't be surprised that Redefinition Records was leading the way here, as they seem to specialize in giving you as many reasons as possible to not want to buy their records.
Anyhoo, this is really good. I'm probably supposed to think Dibia$e is "beat" music or some other sub-genre. Fuck that. It's instrumental rap. A little on the electronic side, all slow, but really good. Fuck a flexi-disc though.
Big Daddy Kane- Looks Like A Job For... (1993)

I do not have the most comprehensive knowledge of Big Daddy Kane records, but off the top of my head, in a nutshell, the first two are great, the next two were iffy, and then he came back strong with this one. I've had one of the singles for years that was strong enough to keep in the crates even without the instros- it was time to swap that out for the LP.

You can kinda hear his voice going. But that typical '93 production, you gotta love it. People began mining the jazz records for samples instead of just James Brown, but they still retained a lot of the up-tempo aesthetics of the old school before they started slowing shit down within the next couple years. What came as a shock to me was it was the Trackmasterz on production for a lot of it. I hate those fuckers off the production they did on the second Nas album. You can make a solid case for that record fucking up everything. Good to know they actually did some worthwhile stuff before they ruined rap.
All The King's Horses- Nobody Knows Where The Red Fern Grows (1993, 2015)

This is a Belgian wax repress of a tape-only release from the Berkeley-based group. I vaguely remember the name. Pretty sure they were down with Bay Area Art Collective, who used to always be slangin tapes and shirts on Telegraph, but this happened a year or two before I was in the habit of hitting them up.
This is another one that would not be in my possession without the good people at Park Blvd. Records. It was @ $20 at the shop, probably would have been close to double that if I had to cop it online with import shipping. With just three vocal tracks and a beat produced earlier this century tacked on, it would have been tough to pull the international trigger on that. But at B&M price, this is great. It's got that mid-tempo jazzy flavor, sounds a lot stronger than even I expected from an act who's been largely forgotten about and compares favorably to everything coming out of the Bay at the time, not just the bedroom-produced four-track shit.
Various- Tales From The Hood (The Soundtrack) (1995)

Who remembers this? The flick wasn't bad, as I recall. I had the soundtrack on CD and got a little burn out of it back in the day, but it wasn't spectacular. It's a kinda odd mix of mostly throwaway Wu tracks and mediocre gangsta rap. Pretty sure the track credited to Wu-Tang is just an Inspectah Deck solo cut. The Ol' Dirty song isn't too bad, at least he raps for real. The MC Eiht song is cool too.
I'm hung up on this one though;
I'm not much of an R&B guy, but that's the fucking jam. I had the hook in my head for a week. Overall, this may not be a strong enough record to stay in the crates forever... but I may never work up the balls to pull it. "I know it sounds bad, but it's all gooood..."
I got a couple other things that are riiiiiiight on the edge of keeper status. The second Del album- I got that on street date when it dropped, really didn't like it, went on a big I Wish My Brother George Was Here kick and heard a few songs off it again recently and figured it was time to give it another shot. Guess what? I was right the first time. There's a couple good tracks on there. Otherwise, Del shoulda put the shrooms down a little bit during that one.
Swooped up Special Ed- Revelations as well. One of the most skilled MCs we've ever had, dropping an LP in '95 when you could shake a nearby tree and have eight dope beats fall out, and fucking Profile laced him with generic-ass production from some randos even Pops Goodman wouldn't have stuck Da Youngstas (fuck your apostrophe) with. Ed kills it, but it feels like you're doing him a favor putting up with the lackluster production. Then you think about how hard he killed it on the Crooklyn track, and you just gotta shake your head. That's basically a should-be classic that we were denied. Labels are trash.
Various- Tags Of The Times (1998)

Been hoping to track this down forever, but it's a tough get on this side of the Pacific. Now that I finally got it, I realized that most of these songs are already in the crates one way or another. Fuck it though. This is a fantastic compilation. I haven't put too much thought into it but I have yet to think of another rap comp with a better tracklist. It would be nice if there were more Japanese tracks on there, but that is probably a decidedly minority opinion on this continent.
I have also acquired two new new and one new old Sach records over the last month. We will get to those in our Record Store Day wrap-up. Allow me to now get back to praying there is a song about BBQing white guys with beards on The Diary.