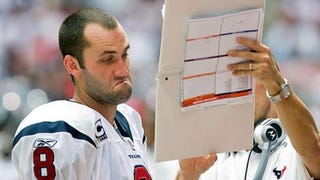 The short version; they're still going to suck.
The longer version; they play the toughest schedule in the league (one of the tougher schedules ever), travel 10,000 more miles than any other team in the league, and somehow have six 10 AM PST early kickoffs despite playing the NFC West conference, which they always lose.
Also, the team still consists largely of mediocre-to-bad football players. Let's examine them.
THE FRONT SEVEN- the one area of the team that has been legitimately improved. They appear to be of at least average competence as a unit, probably the only personnel group on the team who can say that. They have been consistently generating pressure without much blitzing throughout the exhibition games. Khalil Mack had been conspicuously inconspicuous enough to warrant the rolling out of the "don't worry" quotes from players and coaches, which naturally made me very worried. Then he went out and had a huge game against Green Bay last week. We don't need him to be LT. We just REALLY don't need him to be Rolando McClain, Rob Fredrickson, or Darrell Russell.
THE O-LINE- better than last year, but still bad. New LT Donald Penn looks awful. If last year's second-rounder Menelik Watson can turn into a legit NFL tackle on the right side, that would be fan-fucking-tastic. Third round pick Gabe Jackson has been as stout as advertised, and will hopefully become a fixture at LG. There are people on the bench who actually belong in the league, which was not the case last year. Sparano coached em up like nobody's business last year, so with improved personnel we can still hope. But he's got an uphill battle ahead of him, and I will bet money right now that our inevitable 2015 top-five pick will be spent on a tackle.
THE SECONDARY- precisely where everything is going to go to hell. Tarrell Brown and Carlos Rogers were brought over from the Niners to play CB, moves I was entirely supportive of. They've looked pretty shitty so far. Last year's first round pick DJ Hayden was placed on the PUP list and will be unavailable for at least the first six games of the season, pissing off many, many people. Seventh round pick TJ Carrie has impressed, as has Chimdi Chekwa, who looked promising back in 2011 but hasn't been heard from much since. They probably shouldn't be starting NFL cornerbacks right now. Fourth round pick Keith McGill was regarded as a potential steal, but is now being referred to as "developmental." He's already 25 years old. So he's basically the CB Brandon Weeden. Charles Woodson will make some plays, hopefully some of which are more fun than touchdown-saving tackles in blowout losses.
THE RBs- they haven't looked too bad. Maurice Jones-Drew swears he's his old self, just like every aging football player every August. But a 40-yard TD run last week indicated he may not be wrong. Because I'm a masochist, I'll even mention how Darren McFadden has looked good so far this year. After McFadden's left leg falls off in the second game of the year, Latavius Murray should get a crack. He has shown some ability when he's been able to get on the field, but we won't get too worked up about a sixth round pick who was hurt all last year and never done anything in the league. We're not the Niners.
THE WIDE RECEIVERS- they're terrible. Andre Holmes was given a shot at the #1 job after strong showings last season and in the earlier parts of camp. He is the only guy we have with enough athletic ability to be an actual threat. That all went out the window before the first quarter of the first exhibition game was over. He couldn't even stay in bounds running his routes. Rod Streater looks capable enough, but isn't much of a difference-maker. James Jones is supposed to run around for awhile and not be a jerk in the locker room. Denarius Moore is hopeless. Tight end is still a major issue as well, although Rivera should contribute as a receiver. This unit is actually probably worse than our secondary. But they have the benefit of most of their fuck-ups being largely invisible to the fan, instead of resulting in an 80 yard touchdown for the opposition. Also, they can spread out some of the blame with...
THE QBs- I made that plural, because we will undoubtedly see more than one this year, and the sooner the motherfucking better.
I was not mad when the Raiders signed Matt Schaub. I was mad in anticipation, but resigned myself to it after the fact. It's not like we're cap-strapped, it's worth a shot bringing in a vet, and we couldn't get anybody better. But he has looked like utter garbage the entire pre-season, and will be sitting out tonight's exhibition finale against Seattle. Schuab is going to suck this year. There is no doubt or drama involved. The only question is whether he is removed from the lineup via in-game injury at home so the home fans can cheer a la Dan Pastorini, or if it will just be a coach's decision. I don't want to shock you, but personally I am rooting for in-game injury at home. And I want to be there for it. I was at that fucking Flynn game last year, and the horrid Chiefs game where Boller passed the INT baton to Palmer. I deserve to get to cheer for Matt Schaub's career-ending injury.
He is going to be the worst QB to make the team. Second round pick Derek Carr is the QB of the future until he shows otherwise, and it's actually been so far, so good. He will be starting against Seattle tonight, which is about as interesting as a fourth pre-season game gets. And then at some point this evening he will pass the reins to my main Matt, motherfucking Matt McGloin.
Matt McGloin should be starting for this team against the Jets next week. Carr ran the shotgun almost exclusively in college, I'm cool giving him awhile to get into a pro offense. But McGloin has not only been clearly better than Schaub, by some measurements he's been the best QB in the entire NFL this preseason. Three inches taller, and Matt McGloin would be hot shit. Give a ginger midget a chance, eat the money and let Schaub ride pine all fucking year. Fuck that guy.
As for our coaches, GM and owner... I'm sure the time will come to discuss them at depth much sooner than I would like.
I cannot predict a record for this team. The early part of the schedule is manageable, but we'll be playing Schaub. Then by the time we get a real QB in there somewhat comfortably, they get to play the NFC West. Screw it... 5-11! I'm an optimist.
This team is pretty much fucked. If it gets too bleak, I will be padding the weekly previews and wrap-ups with jubilant coverage of the Niners turning to shit. Actually, that will probably happen regardless.
Go Raiders!